Gaming Keyboards worth buying!
1
5 best gaming keyboards
If you are fed up of replacing the keyboards again and again due to their misfunctionality caused by playing hardcore games such as        then you must take a look at this post. Its regarding the five best gaming keyboards which will enhanced your pc gaming experience and also free you from the hassle of changing the keyboards now and then.
So here's the first one.
Gaming Keyboards:Corsair Vengeance K60 -  5-6k
A sleek design with perfect finishing for those who are serious about first-person shooters, this mechanical gaming keyboard is embedded with featherlight touch technology. This touch is delivered via the low-sensitivity, linear feedback etc. The customized red switches employed on the keyboard are perfect for the fast paced games where quick reactions are needed.
The best thing about these Red switches is that they require far less pressure to activate than the similar black swiches or keys (45g instead of 60g) which is also preferred by the gamers.
The keyboard is like 'ok' with the typing job but takes gaming very seriously. The extra-grippy rubberizes WSAD and 1-6 numeric keys in dashing red will ensure schoolboy errors are a thing of the past. The keyboars is quite light in weight ,stylish design the vengeance K60 can register simultaneous key-presses.One of the Top gaming keywords
Gaming Keyboards:Razer BlackWidow Ultimate Stealth Edition – 7-8k
Amongst the very few companies who started manufacturing the very high quality peripherals and accessories for the games such as Counter strike 1.6,Quake III Arena etc. They are still in serious gaming mood and had come up with BlackWidow Ultimate which is their current trophy piece.
The Blackwidow Ultimate does exists with a good design,sleek black finsish. The adjustable LED-lit key are add on feature and are perfect for late night gaming sessions. With all this awesome features it also comes with 2 USB passthrough ports and a headphone port.
Gaming Keyboards:CM Storm QuickFire Rapid – 6k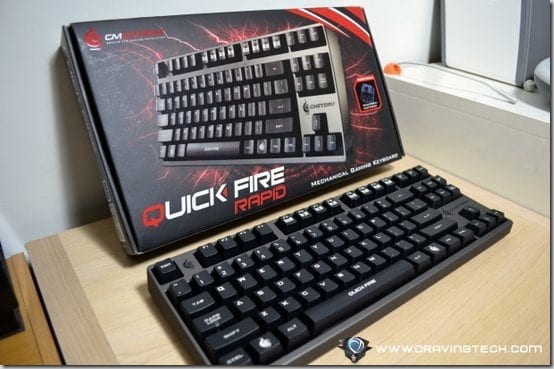 CM Storm Quickfire Rapid from coolmaster  is a compact mechanical gaming keyboard especially for those who the wasting precious desk space. The compact tough design and low weight makes it one of the best gaming keyboard.
It is available in three colour switches (black,blue and red).Black which is considered the best for the gamers ,where as the blue provides a toss up between typing and gaming .
Gaming Keyboards:AZiO Levetron Mech4 – 6-7k
The AZiO Levetron Mech4 is modular by design, and comes in3 parts- the keyboard itself, a numeric keypad which can be attached on either side of the keyboard and a 6 button macro controller which fits above the function keys to provide an incredible variety of control layouts. The add on advantage of this keyboard is that it is rugged and spill proof. The Mech4 also comes with usual features you would expect from a usual keyboard a this price, including anti ghosting, drainage gutters for spilled drinks,user programmable keys ,a volume adjustable knob and the ability to quickly disable windows key during gaming sessions.
 Gaming Keyboards:Razer Star Wars: The Old Republic Gaming Keyboard- 15-16k
Razer Star Wars: Old Republic Gaming Keyboard comes with low-travel keys and a 1ms response time the keyboard packs in the features.
A multi-touch full colour LCD trackpad  and ten dynamic macro keys ensures that your best moves are close at all times. Although it's a bit expensive but still VALUE FOR MONEY.
Final verdict:So this ends the list of gaming keyboards,and personally i feel all are best but the ultimate gaming keyboard is  AZiO Levetron Mech4.
What Next? Feel free to comment about your favourite