BattleField Review-The Game of the season!.
3
Finally! The game season is here. Oct –Dec is a period when all big game developers come up in markets with their big Guns. They release their main sequels in this season. Like EA with their Battlefield sequel, Activision with their all-time famous Call of duty sequel, etc. Battlefield 3 was released 25 October of 2011. Millions of people were actually waiting for this game to come out.
This is the main Battlefield series game sequel after battlefield 2. Battlefield games are mainly made for multiplayer gameplay. As the last year Battlefield bad company 2 was the huge success, all had excitement about next Battlefield sequel to come out. The expectations were very big. Because, Battlefield 2 was the first game to start the online warfare on the massive scale. It had every kind of vehicles to play with on war field i.e. Tanks, jeeps, Jets, helis, Apache etc. They made lots of innovations in Battlefield 2 which made all games what they are today. Also Dice had to add jets to game to satisfy their fan base. So that's also a reason what you should look forward to in this game.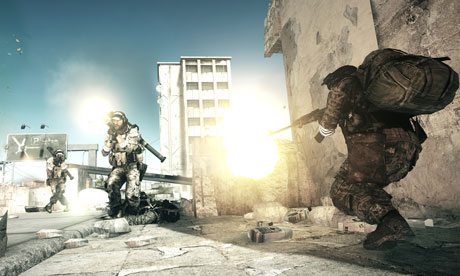 Battlefield 3 was not supposed to include singleplayer campaign. But still they made it this time to make console players interested. Battlefield 3 story is standalone apart from Battlefield bad company story. Campaign have got very typical generic story with nukes. This game story is described by interrogation of Sgt. Blackburn and flashbacks. Although this technique is already used in last year Call of duty Black ops, Battlefield3 campaign story is really well scripted. This time game brings us on modern Warfield where Some Russian protagonist is planning to nuke the world. Campaign is fun to play. It mainly showcases the power of Frost 2 engine. With light effects and particle scaling you would be jaw dropped. Battlefield 3 have got such realistic graphics that when there will be explosion you would be blinded by the dust and debits in front of you. You won't even be able to tell where left or right in that situation. This brings certain amount of difficulty level to campaign mode of Battlefield 3. This is the best looking game of the year. Even systems with SLI won't be able to handle this game on ultra-graphics settings. I think this game would become new benchmarking utility after Crysis for testing computer hardware performance. Gameplay is just awesome. But still game story is a bit too fond of and repetitive. Enemy Al in the game is cleverer than ever before!
Fans won't be disappointed about multiplayer gameplay of Battlefield 3 as it is what is made for! There is enough to enjoy in multiplayer with pleura of vehicles and jets, unlocks etc. One thing you will notice in this game instantly is that you will be jumping over the cover like you are used to do in Call of duty games. They have added some really new and innovative gameplay mechanics. One of which impressed me a lot is suppressive fire system. It does exactly what the words suggest. When you take cover behind the rock or something and enemy start firing on that cover, you are suppressed. You see blurry effect on screen when enemy is firing on that cover. Also you can't even take perfect aim when enemy is firing at you. With this system you can actually pinpoint the enemy behind the cover by suppressive fire. Also when your team mate kill enemy which is suppressed by your fire, you get suppression assist points. This gives whole another meaning suppressive fire. Support class will be much more beneficial in this case as they have unlimited supply of ammo and light machine guns.
People keep bugging developers that snipers in the very corner of map where reaching alive or finding them is almost impossible. Game makers fount very brilliant and realistic solution to this camping problem. They added very small light glint to scope of sniper rifles so players can find out snipers where they are hiding. Different sniper rifles have very different mechanisms. Also bullet drop is nicely noticeable. Perks like the bipod really improves the accuracy of guns when you prone or take support of some cover by right clicking the mouse. Yes, you can prone in the battlefield 3. Prone really improves the accuracy of guns.
httpv://youtu.be/yTCTvsUknzs
It takes really more time to get unlocks and rank up as compared to Battlefield bad company 2.So you will be hooked up to Battlefield 3 for much more long interval. There is unlock for everything in Battlefield. When you unlock a gun and use it to get certain amount of XPs and you will get perks for that weapon. There are unlocks for vehicles and soldier specializations. Each unlock is necessary to give you boost to rank up in a game. Some perks really blowed me away! Some perks of guns have really brilliant need of strategic asset. Like tactical flashlight for guns. When you flash your gun on someone's eyes it makes your enemy blind as he see only screen full of bright flash light. But this perk should be ON when you are underground or in some dark room. Else In the day light you would only be flashing target to shoot. Same goes for laser beam. It blinds the enemy as well as gives accuracy on hip fire. But it gives away your position.
Jets are new attraction for gamers in Battlefield 3.High speed of jets can result in very intense Dogfights. Some practice would be required for newcomers for piloting Jets. With some team effort jet can be a lethal weapon in game. You can laser designate  the target by using MOFLAR in Recon class and jets can destroy that target bay locking on that target instantly with Air to land laser missiles. To handle these kinds of enemy jets, you have got some defense vehicles like AA (Anti Air vehicle).Also there are some different types of Jets in games which come up with different speeds or power. Same thing goes for Helis.
Enough of Multiplayer, Now let's go for co-op gameplay. This is the first game Dice have ever added Co-op in their battlefield sequel. Actually this is very nice addition to game. The co-op in Battlefield 3 has six missions, unlocked in a tiered structure. From my point of view this co-op is complete useless. With server lags and some game bugs. I was not even able to play Co-op as there was some bug when I can't move or do something with my keyboard when the CO-OP starts. It is possible that you may not be able to play co-op unless you have some friend to play it with. I have not experienced the co-op enough yet, so I won't be able to give you any review about it. Sorry guys.
This time you won't have in-game option to play campaign, Multiplayer and co-op. Dice have come up with really new concept to play the game. You have provided Battlfield's own social networking site called Battlelog. You need to login to this site in order to play multiplayer game. You will be browsing servers online and then starting the game through your internet browser. You can see what unlocks and award you and your friends have got on your wall. You can create or join platoons (Clans) On Battlelog as Battlefield 3 need team gameplay. You will be able to see and compare your status to your friends status. Battlelog makes it easy to play with your friends. Also this reduces starting time of game. Battlelog works as it is supposed to work. I gotta say that it is brilliant.
Game have got some bugs likes when you will be trying to jump from the cover but you can't. This can result in very frustrating deaths. Also game has got some graphics driver issues with Nvidia cards. I recommend you to update your graphic card drivers before you play the game as there is update is released for that issue. With disappointing performance in campaign story it still is legendary in terms of graphics and multiplayer gameplay. If you want to play multiplayer this game is must buy, as you won't need any other new game for about a year. This games scores 9.5/10. It gives what it is supposed to give i.e. Multiplayer experience. That's what matters in Battlefield game.
This Post is written By Shriniwas Surve!.who is a game addict and is presenltly completing his diploma Studies!